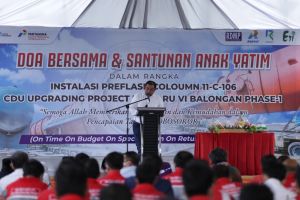 The performance of PT Rekayasa Industri (Rekind) in the work on the EPC CDU Light Distillate Section Upgrading received a positive appreciation from the Senior Manager of PT Pertamina RDMP RU VI Balongan Phase1, Dede Darsono. Rekind's performance in supporting this national strategic project is considered very good, because it is able to exceed the target set by the state-owned oil and gas company, as the owner of the project.
"We really appreciate the performance shown by Rekind. In this one year the progress of the work carried out has reached 53 percent of the 47 percent target set, meaning there is a ahead of around 6 percent. In addition, in this project we can also achieve 200 thousand hours of work without accidents. This is also a very good achievement," said Dede Darsono when giving a speech at the Joint Prayer and Donations for Orphans at Pertamina Balongan Environmental Refinery in the context of Installing Preflash Coloumn 11-C-106 CDU Upgrading Project RDMP RU VI Balongan Phase 1, Wednesday (24 /11).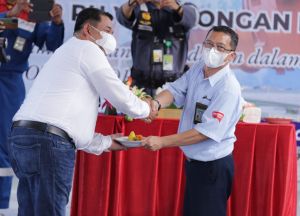 This situation can be realized because the climate or working atmosphere is very conducive, both from internal refineries, especially Rekind and situations that develop outside project activities. All have a very large correlation with each other. As a form of gratitude for this achievement, Rekind and PT Pertamina RDMP RU VI Balongan Phase 1 held a Joint Prayer and Donations for Orphans. Involving not only internal personnel, but also cooperating with the surrounding community.
This form of gratitude is appreciated through donations to orphans in a number of villages which are located closest to project activities. Followed by cutting the cone, reading Al Ma'surot dhikr and tausiyah.
This thanksgiving event was also carried out as part of the initial part of the Preflash Column 11-C-106 installation process in supporting Rekind's activities in the EPC Light Distillate Section Upgrading work.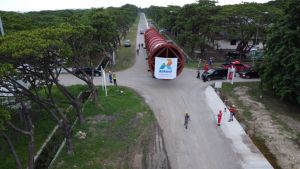 "For us (Rekind) the culture of expressing gratitude and praying together for the blessings of Allah SWT is very important. Moreover, the responsibilities and risks we face in carrying out project activities are very large, building a refinery inside a refinery. That's why the tradition of gratitude and prayer must be maintained. Hopefully what we do is always integrated and useful for all of us," said Rekind's Project Manager at the RU VI Balongan Phase 1 RDMP Project, Faisal Abdul Rahman.