PT Rekayasa Industri (Rekind) together with PT Wijaya Karya (Persero) Tbk, PT Adhi Karya (Persero) Tbk, and PT Pembangunan Perumahan (Persero) Tbk, agreed to increase synergy. 'Their aim' is to implement strategic projects in the field of EPC in the country, especially for the industrial plants sector.

The synergy was marked by the signing of a memorandum of understanding represented by Alex Dharma Balen – President Director of Rekind, Agung Budi Waskito – President Director of PT Wijaya Karya (Persero) Tbk, Entus Asnawi Mukhson – President Director of PT Adhi Karya (Persero) Tbk, and Novel Arsyad – President Director of PT Pembangunan Perumahan (Persero) Tbk. The activity, which was carried out online, on Wednesday (21/7) was witnessed directly by Deputy Minister I of BUMN Pahala N. Mansury, Assistant Deputy for Food and Fertilizer Industry at the Ministry of SOEs Zuryati Simbolon and President Director of PT Pupuk Indonesia (Persero) Ahmad Bakir Pasaman.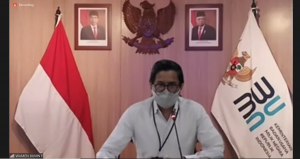 "This is a form of cooperation with the B to B (business to business) principle in the EPC field, especially to ensure the implementation of strategic projects, such as the development and construction of refineries, be it refineries, petrochemicals, processing facilities, power plants, gasification. to project work abroad," said Pahala N. Mansury in his speech.
This collaboration is also expected to be an added value for all parties and ensure the implementation of the development of these strategic projects with good quality, efficiency and able to meet the right timeline. Cost, quality and time are important considerations. Even the President of the Republic of Indonesia in his directives always emphasizes the importance of BUMN as one of the drivers of increasing investment in Indonesia. One of the possible opportunities to increase investment is through the development of strategic projects.
"We hope that the implementation of these strategic projects will also encourage and accelerate economic development in Indonesia, especially anticipating the COVID-19 pandemic," he added.
Pahala N. Mansury ensures that the principle of inter-company cooperation prioritizes the principles of GCG (Good Corporate Governance).
"The Ministry of SOEs guarantees that there will be no intervention or prioritizing one party over the other. Everything is based on an open, competitive and transparent process. This collaboration also refers to the work culture of AKHLAK as an effort to increase the value and competitiveness of BUMN works and Rekind," he said.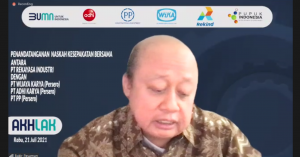 The synergy between Rekind and the 3 Construction SOEs binds the principle of cooperation in providing support to each other through joint operations, consortia and subcontractors. On the other hand, it also boosts market potential, starting from preparing proposals, implementing work or providing assistance to recommendations. This form of togetherness also highlights the sharing of knowledge between companies and financial support.
"We hope that this collaboration can be realized and implemented properly so as to provide benefits for the parties involved," said the President Director of PT Pupuk Indonesia Achmad Bakir Pasaman.
Moreover, according to him, Rekind is a leading company in Indonesia, which is reliable in the construction of industrial factories and has completed many strategic projects on a national scale, both in the fields of fertilizer, oil and gas, geothermal, and others. Of course, Rekind has a lot of experience, knowledge and competence that can be valuable capital. Can be managed together, to generate benefits, not only for Rekind but also for other parties.

President Director of Rekind Alex Dharma Balen is optimistic that this synergy can create mutually beneficial cooperative relationships between companies. In addition, it can also be a momentum for strengthening the capabilities of the National EPC BUMN, including as an alternative solution in increasing the existence of Rekind.
"Apart from being a profit-oriented company, this step also plays an important role as the frontline in accelerating development, as well as serving the public in realizing the welfare of the Indonesian people," added Alex Dharma Balen.