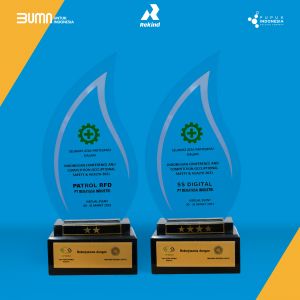 PT Rekayasa Industri (Rekind) continues to show its "excellence." In several prestigious national events, Rekind has always gained great trust, as proof of its best work, commitment and existence as a company in the Engineering, Procurement and Construction (EPC) fields. This time, Rekind was crowned 2 awards at the 2021 Indonesian Conference Competition Occupational Safety & Health (ICC OSH), Wednesday (31/3).
Rekind is trusted to win the 4 Star Award through an innovation made by Fandy Maulana Syah Rizal and Kris Nur Akbar who demonstrated about "Using AI (Artificial Intelligence) in Site Activities". Another Rekind innovators, Muhammad Faisal, dr. Redi Gunawan and Dupi Parlaungan, who raised the theme "Prevention & Handling of COVID-19 in the Project (pilot site: PLTU Lombok Project)," are also believed to have won a 2 Star Award through a national event initiated by LPSDM YAPRIKA and Wahana Quality Control.
ICC OSH 2021 is an activity that demonstrates excellence in the implementation of the OSH Management System in state-owned and private companies (PMA & PMDN). The activity, which is held online, is carried out in support of the 2021 National K3 Month, which this year carries the theme "Strengthening Superior Human Resources and K3 Culture in All Sectors." In Industry 4.0, these innovations open up opportunities to reduce the potential dangers of K3 because human functions are replaced by automation and artificial intelligence and several types of work can be done virtually, but still pay attention to the human interaction needed in the field.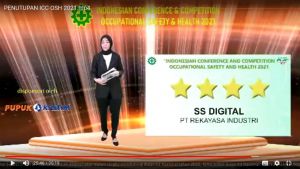 "Rekind itself is an EPC company where the business it does has a very high level of risk, so applying artificial intelligence technology can eliminate obstacles that usually arise when humans do it," said Edy Sutrisman, SVP of Corporate Security & Legal Rekind.
On the other hand, through this innovation it is believed to be able to cut the bureaucratic flow process and simplify and accelerate and streamline the costs required. In fact, digitization is emphasized to avoid bad impacts on its application, for example submitting false data or invalid documents.
"Therefore, the system developed by Rekind focuses on being able to bridge the acceleration of the achievement of K3 Culture for all employees in the company," added VP HSE Rekind Hendi Hidayat.