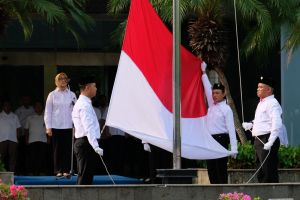 PT Rekayasa Industri (Rekind) held a flag-raising ceremony to commemorate the service of the nation's warriors through the commemoration of Heroes' Day 10 November 2023. The historic moment, which was held on Friday (10/11) at ROB 2 Field, took place with full solemnity and silence wrapped in within a frame of simplicity.
The Heroes' Day commemoration ceremony, which started at exactly 07.30 WIB, was led directly by Triyani Utaminingsih, President Director of Rekind. Acting as Ceremony Commander Syarif Hidayat Moo, SVP Petrochemical, Refinery, Oil & Gas, Rekind. Followed by Rekind Officials and Management, representatives of Rekind Subsidiaries, including high-ranking officials. Also present were a number of employees and directors of PT Pupuk Indonesia Niaga (PIN) and PT Pupuk Indonesia Utilitas (PIU).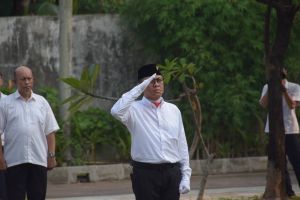 All ceremony participants wore white tops combined with black bottoms. Symbolizes purity, purity and tranquility. For the entire Rekindist crew, the November 10 Heroes' Day commemoration ceremony has its own meaning. Especially emulating heroic spirits to be able to further increase your struggle and devotion at work, especially the provisions for 'fighting' to face the various big challenges faced today.
Moreover, companies and the nation always need figures who are dedicated and have achievements in their fields to advance the country. Indonesian youth figures are also needed as the next generation who have a spirit of patriotism, never give up, be disciplined, have character, master knowledge and skills in their fields.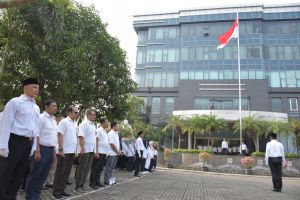 "We will conquer these threats and challenges armed with enthusiasm, just as the warriors have exemplified. It's not easy, but it's definitely possible. Because national heroes have taught us the values ​​of struggle. "The values ​​that we follow will definitely bring a trace of victory," said Triyani Utaminingsih reading the message from the Indonesian Minister of Social Affairs, Tri Rismaharini.
The message also emphasizes self-confidence and never being willing to kneel or give up. No matter how big the threats and challenges are, they will always be faced, with clenched fists and a swelling chest.
This year's Heroes' Day commemoration carries the theme; The Spirit of Heroes for the Nation's Future in Fighting Poverty and Ignorance ended with a group photo session between officers and a number of ceremony participants, as a form of togetherness and solidarity.