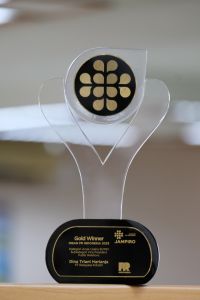 PT Rekayasa Industri (Rekind) through Dina T. Harianja, VP Corporate Communication & Secretariat, under the auspices of the Corporate Secretary & Legal Unit, was awarded the GOLD Winner award at the 9th PR Indonesia Jamboree (Jampiro) 2023.
Jampiro is the biggest competition event organized by PR Indonesia with the aim of measuring and appreciating the performance and contribution of public relations (PR) actors from various institutional, industrial and generational backgrounds.
This year, the event, which has been going on for nine times, was attended by 128 entries (participants). After following a long selection process until the final round on 12-14 September 2023, 66 participants were selected as winners.
"We are very proud of the achievements of this award. This is the fourth time Rekind has received an award from PR Indonesia. "For us, this appreciation is one of our encouragements to be able to continue working well for the company's progress," said Edy Sutrisman, SVP Corporate Secretary & Legal Rekind.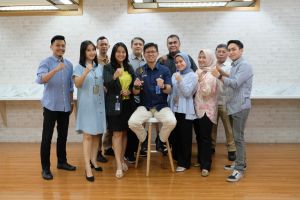 Moreover, continued Edy Sutrisman, Jampiro aims to measure the competence of communication actors. More than that, this event is also a manifestation of PR Indonesia's commitment to motivate PR practitioners to continuously increase their role and contribution to their respective organizations. Of course, for Rekind this event can be used as a barometer of Rekind's public relations performance achievements.
At this event, Rekind presented a number of strategies and steps for the communication approach of the PT Pupuk Indonesia (Persero) subsidiary to stakeholders, especially in responding to various dynamics that are developing today, both internally and externally.
Rekind strives to keep the rhythm of the company's existence running well and optimally. Every effort is made to the maximum, including by encouraging and improving the competence of the Rekind crew who work in it.
"Structurally within our Division, from officials at the top level to the lower level, performance continues to be optimized. This is also due to the excellent cooperation between all company personnel, especially Corporate Communication & Secretariat personnel who are under the coordination and direction of the SVP Corporate Secretary & Legal, Edy Sutrisman.
So that any assignment carried out by the company, especially those related to both internal and external communication activities, can be carried out on target, according to the targets given, even without the presence of a third party. "The results are very encouraging, beyond our expectations," emphasized VP Corporate Communication & Secretariat Dina T. Harianja.
According to her, this step is able to create independence and give birth to Rekind people who are resilient, especially in facing the current developing dynamics. One of the efforts made by Rekind is Media Monitoring activities. This effort was purely carried out by Rekind without a third party. It is not easy, especially exploring various news that appears related to the company, such as the process of reading, observing or listening to information from various media sources on an ongoing basis.