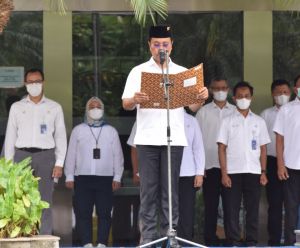 PT Rekayasa Industri (Rekind) held a flag ceremony to commemorate the services of the nation's warriors through Heroes' Day 10 November 2022. The commemoration of this historic moment was held on Thursday (10/11) at ROB Field 2, Rekind Home Office.
Directly led by Bondan Pristiwandana, Director of Finance and HR of Rekind, with Ceremonial Commander C. Taqwawan Mulyono, Plt. SVP Portfolio & Business Synergy. Also attended by the Main Director of Rekind Triyani Utaminingsih, SVP Corporate Secretary & Legal Edy Sutrisman, management officials, all employees, representatives of Rekind Subsidiaries (Anper), including high-ranking officials. Also present were all leaders and management of the Reka Sejahtera Cooperative and employees and directors of PT Mega Eltra.
Even though it was carried out in a simple and solemn manner, for all Rekindist crew, the November 10th Heroes' Day commemoration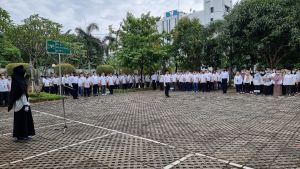 ceremony had its own meaning. Especially to be able to further increase the dedication of all Rekindists in facing the various big challenges currently being faced.
Therefore, through his message, Bondan Pristiwandana emphasized that the commemoration of Heroes' Day is not only remembered and commemorated ceremonially, but more than that how to take the meaning contained in it. It is hoped that the struggle and sacrifice of the heroes can also inspire and motivate all Rekindists to continue development and fill independence. "Through this commemoration as well, it is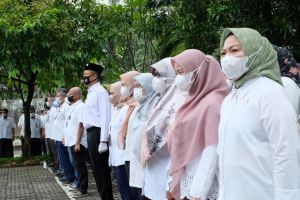 hoped that we can increase the company's optimal existence again as a manifestation of our contribution in building the nation and state," he stressed.
Companies and nations need people who are dedicated and accomplished in their fields to advance this country. Indonesian youth are needed as the next generation who have a spirit of unyielding patriotism, discipline, character, mastering knowledge and skills in their fields. he added.
If every member of Indonesian society has the awareness and willingness to implement the spirit and values of heroism, then this can become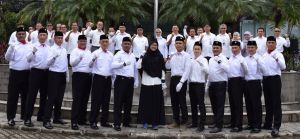 one of the big assets to build a better nation.