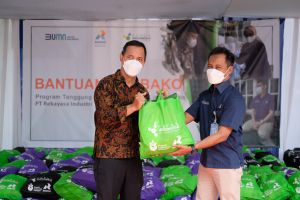 PT Rekayasa Industri (Rekind) distributed 500 basic food packages specifically for residents of RW 08, Kalibata Village, Pancoran, South Jakarta. Apart from wanting to increase togetherness or synergy in the Kalibata area, which is the closest environment to the Rekind Home Office, this activity was also carried out to slightly ease the burden on the people affected by the Covid 19 pandemic.
The sharing activity, which was held on Friday (14/10), was led directly by Rekind's Director of Operations and Technology/Development, Yusairi. Accompanied by the Director of Finance and HR Bondan Pristiwandana, SVP Corporate Secretary & Legal Rekind Edy Sutrisman. The distribution of basic necessities was also attended by Dwi Pudyasmoro, SPM Creating Shared Value (CSV), Representative from PT Pupuk Indonesia.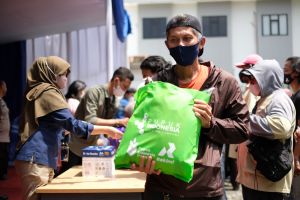 "The purpose of holding the Distribution of 500 Staple Food Packages is solely to share happiness with the people around Rekind, while at the same time helping to ease the burden on the community, especially those affected by the Covid 19 Pandemic," said Yusairi in his remarks before the Pancoran District Muspika and community members RW 08 Kalibata.
Through this activity it also proves that Rekind, in establishing community life, always maintains friendly relations and pays attention to the needs of residents around their environment.
For Rekind, sharing is a form of expression of gratitude for whatever blessings Allah SWT has given. Even though it's in a difficult situation, it doesn't mean that Rekind discourages its enthusiasm to always be able to express its gratitude through sharing.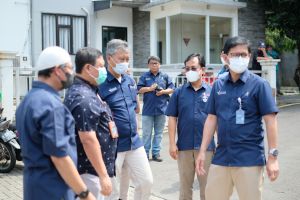 This activity was able to be held thanks to the support provided by PT Pupuk Indonesia as the Rekind Parent Company. "We really appreciate this activity, especially the great support given by PT Pupuk Indonesia. So that all of us, especially residents of RW 08 can feel this happiness. Representing the Directors and Management of Rekind, I express my deepest gratitude," added Yusairi.
Hopefully the synergy that has been developed between Rekind, both with Muspika and the community, especially in the Kalibata, Pancoran, South Jakarta area, will continue to be well-established and strong.