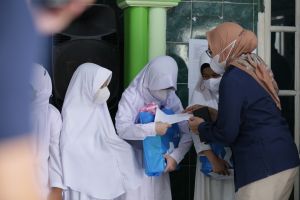 PT Rekayasa Industri (Rekind) has never been absent from holding sharing activities for orphans and dhuafa, especially during the momentum of the Holy Month of Ramadan. This year's activity, in 1443 Hijri, was held in 3 different locations, distributing various packages in the form of food and school equipment.
It started at the Al Andalusia Orphans Foundation Jalan Bangka Gg V No. 27, Pela Mampang, Mampang Prapatan, South Jakarta. The activity, which was supported by the Rekind Ulul Albab Ta'lim Council (MTUA) together with Rumah Zakat, was led directly by the President Director of Rekind Triyani Utaminingsih. Accompanied by Rekind's Director of Operations and Technology/Development, Yusairi, SVP Corporate Secretary & Legal Rekind, Edy Sutrisman and a number of staff, Monday (25/4).
For this state-owned EPC company, sharing is a form of expression of gratitude for all the blessings given by Allah SWT or God Almighty. Even in a difficult situation, it doesn't mean that Rekind has to dampen his enthusiasm to always be able to express his gratitude by sharing. Whatever the conditions, this is all the will of Allah SWT. It is this view that Triyani Utaminingsih tries to continue to echo to all of her staff.
"Never do this situation make us feel discouraged. Instead, these various activities can be a field of charity for all of us and open doors of convenience, especially in order to motivate ourselves to continue to do better. best. In Sha Allah the storm we are facing will pass quickly," said Triyani Utaminingsih after the activity.
The symbolic handover of support was carried out after the Asr prayer. Beginning with the reading of the holy Quran by Silma, a student of the Al Andalusia Tausiyah Orphanage Foundation, Ustad Muhammad Abdul Latif and ending with breaking the fast together.
In addition to the Al Andalusia Orphanage Foundation, Rekind also shares with orphans and dhuafa from the Saadatul Muslimin Foundation in the North Kemang area, South Jakarta.
This EPC company, which is even 40 years old, also supports orphans and poor people in RW 08, Kalibata Village, South Jakarta. Its activities are centered in the Nursyafiuddin Mosque. This mosque had previously received support through a house of worship renovation program from Rekind in 2017. The event, which had great significance, was attended by SVP Corporate Secretary & Legal Rekind, Edy Sutrisman, Pancoran Village Head Kamalaudin and local community leaders.
This RW 08 area is the closest neighborhood to Rekind's Home Office. So that sharing activities have been closely intertwined for decades. This activity was carried out as a reflection of the strong synergy between Rekind and the community. Because, without strong support and cooperation, it is impossible to create a safe and conducive atmosphere. This conducive situation is closely related to the sustainability of Rekind.
"This activity is a form of the company's concern for the residents around the company environment in welcoming the celebration of Eid Al-Fitr 1413 H, hopefully this gift will bring blessings and benefits to those who receive it. We also pray that we can always be the best in realizing our dreams nation," said Edy Sutrisman.