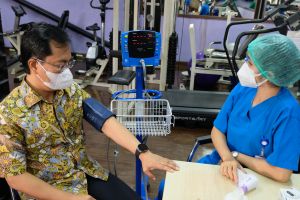 Rekind again held a free follow-up vaccination (Booster) specifically for employees, employees of subsidiaries, and the community in Kalibata, Pancoran, South Jakarta, as an effort to reduce the rate of the spread of the pandemic, especially in the work environment.
In this activity, Rekind is again synergizing with the Pancoran Police, where the implementation of vaccinations continues to be intensified by the National Police in the country, including through the simultaneous implementation of booster vaccination programs throughout Indonesia. The support provided by the police to the state-owned EPC company is in the form of vaccines of the Astrazeneca and Sinopharm types along with the medical team, assisted also by officers from the Kalibata Village.
Separately, the President Director of Rekind, Triyani Utaminingsih, welcomed this positive activity. This vaccination event illustrates the strong synergy formed between Rekind as a state-owned EPC Company, the Police and local government officials.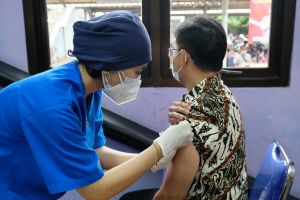 "We believe that health and safety are the main things, so accelerating booster vaccination for our employees is a priority and we really support this activity, which is an effort to assist the government in accelerating the spread of booster vaccination where the benefits of vaccination have been felt in Currently, the Covid-19 case has started to swell. Moreover, in the near future, the community will carry out Lebaran homecoming, where the 3rd vaccination or booster has been determined to be a requirement for the 1443 H homecoming trip," said Triyani Utamingsih.
This step is very much in line with the government's program in terms of breaking the chain of Covid-19 spread and in accordance with the mission brought by Rekind which continues to try to minimize the number of Covid-19 spreads, especially in the work environment.
It was witnessed directly by a number of high-ranking officials of Rekind, Thursday (31/3) and where on average the participants had received the first and second doses of vaccine with a period of at least 6 months from the second dose of vaccine. The booster vaccination at the Rekind Home Office (HO) was carried out smoothly with high enthusiasm from employees, subsidiary employees and the public to participate in vaccination activities. Of the total 216 registered participants , all of them have been successfully vaccinated .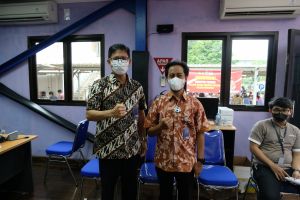 In an effort to prevent the spread of Covid 19, Rekind is also actively educating, inviting and providing awareness to the public, especially in the Pancoran District, about clean living and preventing the spread of COVID. Marked by the delivery of handwashers, Personal Protective Equipment (PPE), disinfectant spray equipment, masks and supplements.
"There is a lesson that we can take from the outbreak of this pandemic, namely the establishment of strong synergies, such as Rekind with the TNI/Polri apparatus, Regional Government Officials and the community. Hopefully this joint step can provide great benefits, especially for the community and the nation, "said Edy Sutrisman, SVP Corporate Secretary & Legal Rekind.