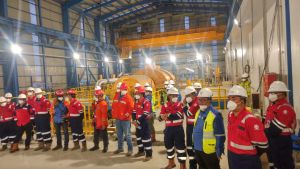 As of December 26, 2021, PT Rekayasa Industri (Rekind) has completed its work at the Rantau Dedap Geothermal Power Plant (PLTP) Project (91,185 MW) in Muara Enim Regency, Lahat Regency and Pagar Alam City, South Sumatra Province. This was marked by the completion of all stages of testing systems and facilities for power generation capacity (Plant Rated Capacity Test) carried out by the national EPC (engineering, Procurement and Construction) company. PLTP Rantau Dedap is a PLTP operated by PT Supreme Energy Rantau Dedap (SERD), a joint venture between PT Supreme Energy, ENGIE, Marubeni Corporation and Tohoku Electric Power. On December 26, 2021, it was announced that the PLTP Rantau Dedap Phase-1 with a capacity of 91,185 MW was in commercial operation. Electricity sourced from green energy free of carbon emissions will be channeled through the transmission network owned by PT PLN (Persero) to be able to support the reliability of electricity supply in the Sumatra Region.
Evidence of completion of all stages of testing is strengthened by the issuance of a certificate or official report on Commercial Operation Date (COD – Commercial Operation Date) in writing by SERD as the project owner. The footing refers to the SKPP (Certificate of Eligibility for Use of Equipment) issued by the Directorate General of New and Renewable Energy for Energy Conservation (EBTKE) and the Certificate of Operation Eligibility (SLO) issued by the Directorate of Engineering and the Environment, Directorate General of Electricity (DJK), Ministry of Energy and Resources. Minerals (ESDM). In addition, it also refers to the Operator Competency Certificate issued by the Association of Power Generation Experts.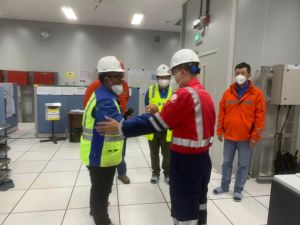 After the issuance of this COD, the PLTP Rantau Dedap directly distributes electricity through the transmission network owned by PLN commercially, to then be distributed to the public, especially in supporting the lack of electricity supply in the Southern Sumatra region."Alhamdulillah, in the midst of the Covid-19 pandemic and a number of big challenges faced, Rekind was still able to provide the best for the completion of the Rantau Dedap PLTP Project. This effort is also a form of Rekind's commitment to supporting the program to accelerate the development of power plants in Indonesia and to increase the role of renewable energy in realizing the nation's sustainable energy security," said Rekind President Director Triyani Utaminingsih.
Under the banner of a consortium with Fuji Electric, Rekind's scope of work in the Rantau Dedap PLTP project is quite broad. Covers engineering work, procurement, construction, BOP commissioning and pre-commissioning. Everything was done independently by Rekind's best sons and daughters.
Rekind continues to prioritize innovation and the application of modern technology in producing the best works in the project, which is located at a site altitude above 2000-2600 masl. Among them are in the work of the Steam Separation System. Here the company that was founded for 40 years is able to apply its work well through the application of Central Separator with Dual Flash System technology. This technology relies on the generator's central separator which is capable of flashing process (pressure) twice as strong as the technology applied in the previous generator, so as to obtain maximum performance.
"Not only that, to work on a switchyard with a capacity of 150 kV, Rekind is also able to apply the Using Container Gas Insulated Switchyard (GIS) technology. This is a technology capable of transforming conventional electrical substations into digital ones. The application of this technology was carried out for the first time in Indonesia and Rekind was able to do it," said Rekind's Project Manager for the Rantau PLTP Project, Dedap Dwi Novianto.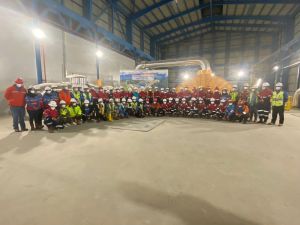 However, he admits, there are many challenges to make it happen. Starting from the number of project workers exposed to Covid 19. It is difficult to transport heavy materials because the road to the project site is prone to landslides, extreme incline and rocky road conditions. Low temperatures (average in project area 10°C -15°C) to threats from wild/wild animals to workers.
"Nevertheless, in completing this project, Rekind always tries to give the best. Every work we do must be measured and planned properly," added Dwi Novianto convincingly.