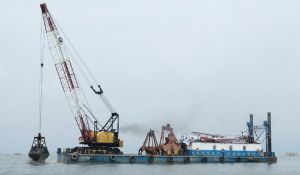 It's been almost a month now, the process of pre-trenching (dredging) along the 1.2 kilometers around the waters of the Thousand Islands, Banten, stretched.
The activity which is the responsibility of PT Rekayasa Industri (Rekind) on the mandate of PT Pertamina (Persero) is part of the stages of work on the Soekarno Hatta (Soetta) Subsea Pipe Line Mooring (SPLM) Aircraft Filling Depot Project.
The work carried out by the National EPC company focuses on installing Single Point Mooring (SPM) with a capacity of 50,000 DWT (Dead Weight Tonnage) and Subsea Pipe Line (SPL) along 8.5 kilometers.
In supporting these strategic project activities, SPM is a kind of floating media that functions as a place to moor up tankers as well as a means used to transfer media from the tanker (avtur) to the underwater pipeline (submarine pipeline, SPL).
Meanwhile, the SPL is a pipe that is connected from the SPM to the Booster Pump in Tanjung Pasir, Banten, to then be channeled to Pertamina DPPU at Soetta Airport, before being used by all airlines.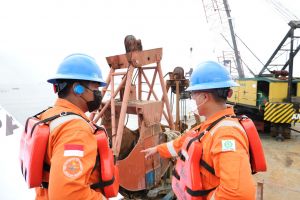 The initial dredging process is part of the SPL activities. It is carried out along 1.2 kilometers or to be precise starting from the Kilometer Post (KP) 6.9 to KP 8.2 with a depth of 3 meters. Using portable sectional barges supported by performing dredging operations cranes. "Specifically designed by Rekind's professional engineers for the process of planting pipes that pass through shallow sea waters below 20 meters," said Rekind's Construction Manager for the Soetta SPLM DPPU Project, Setiadi.
For pipes that cross the sea route with a depth of more than 20 meters, which in this project is 1 kilometer long, it is placed on the seabed without being planted. The pattern put forward by Rekind refers to the Regulation of the Minister of Transportation of the Republic of Indonesia No. PM 129 of 2016 concerning Shipping Routes at Sea and Buildings and/or Installations in Waters
Setiadi admits that the toughest challenges in the pre-trenching process are weather factors and soil conditions on the seabed which contain a lot of sand so that the excavated soil material can be returned to the dredging site.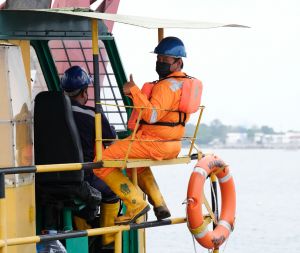 To anticipate this, the Rekind engineer team carried out dredging with a width of 6 meters and a digging angle of 1:1 with the aim of anticipating the return of excavated material to the dredging location. So that the depth of 3 meters can still be maintained. For depth monitoring, it is carried out with an Echo Sounder tool or through a manual process through a tool that is plunged into the dredged area. "If the dredging depth is not up to the target, the dredging must be repeated. If this happens, it will increase the processing time and of course increase the costs. We have to avoid this as a minimum, "said Setiadi.