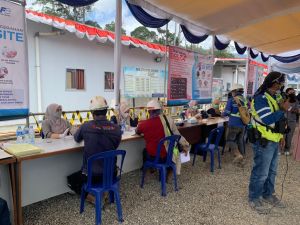 PT Rekayasa Industri (Rekind) intensively encourages the implementation of vaccinations for all its workers, including those who are active in a number of project activities. This step is very strategic for Rekind, especially in maintaining its commitment to be able to complete the responsibilities entrusted to it as a national EPC (Engineering, Procurement and Construction) company. As a form of that commitment, Saturday (4/9), Rekind together with PT Supreme Energy Rantau Dedap (SERD) held a second stage of vaccination for 499 workers at the Rantau Dedap PLTP Project, Muara Enim, South Sumatra.
The activity, which was held at the GPP Site Office, was attended by all company employees, both SERD as the owner, Rekind and Fuji Electric as the executor of project activities and other sub-contractors.
"By carrying out vaccination activities at the project site, we can speed up construction activities. Because man power does not need to leave the project site to implement the vaccine. So that the efficiency of working hours can be increased, "said Dwi Novianto, Project Manager of PLTP Rantau Dedap.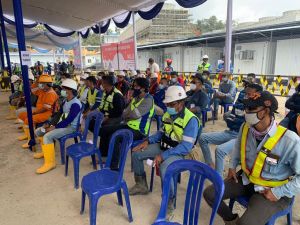 For Rekind, efficiency in both time and cost is a top priority in optimally supporting project activities. On the other hand, the inefficient drive has a negative impact on the sustainability of the project and the sustainability of the company in it. To support these efficiency activities, Rekind continues to prioritize stricter and more intensive health protocol rules to be implemented for its workers, in addition to additional standard protocols for anticipating COVID-19 set by the government and the World Health Organization. The large number of workers exposed to the corona virus has significant implications, not only for the sustainability of the project, but also for other economic sectors.
"We are committed to continuing to support the government's efforts in development in the country, however, the continuity of work and health protocols in the field must continue to be strictly maintained to increase efficiency and minimize the impact of losses," added Dwi Novianto.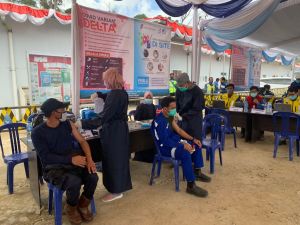 Vaccination at the Rantau Dedap PLTP Project was carried out thanks to the full support of the South Sumatra Provincial Government Health Office, South Sumatra Regional Police, Muara Enim Regency Government and Lahat Regency Government. Thanks to this support, Rekind did not have to spend any money, including for the first phase of vaccination activities which were also carried out in the project environment. According to Edy Sutrisman, SVP Corporate Secretary & Legal Rekind, this synergy was born from positive coordination between the TJSL & Comdev (Community and Development) Rekind Team as the SERD representative, in supporting project activities. Not only vaccination, thanks to this synergy, it also provides cost efficiency for workers who carry out self-isolation (Isoman). These workers receive Isoman facilities from the local government in Lahat and Palembang. Whereas prior to this synergy, workers carried out Isoman in hotels or inns which of course required no small amount of money.
"Alhamdulillah, on behalf of my company, I would like to express my gratitude and great appreciation for the support provided by the local government. Through this best synergy and coordination, we get vaccination facilities, including isoman support in Lahat and Palembang at no cost. Hopefully, the synergy and similar efforts can continue as the best intention for sustainable development in this country, even in a pandemic," said Edy Sutrisman.