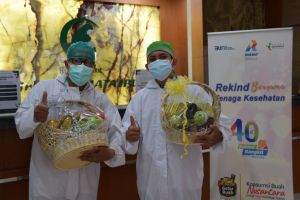 PT Rekayasa Industri (Rekind) distributed 100 fruit packages for health workers (Nakes) in a number of areas of DKI Jakarta and Depok. The distribution is focused on health workers at central general hospitals, regional general hospitals, general hospitals, health centers and health clinics.
The distribution of these fruits is a form of empathy and sympathy for the efforts made by the medical team as the frontline in health services, especially for their service to the community exposed to Covid-19. On the other hand, this step is also a form of Rekind's support for the government's campaign program for the awareness movement to consume fruit as a local product, through the National Fruit Movement or Gerakan Buah Nasional (GBN).
GBN is a forum for accelerating the Proudly Made Indonesia Movement (BBI) launched by President Joko Widodo on May 14, 2020 in order to improve the economy of micro, small and medium enterprises and grow the market for national products. In addition to supporting the improvement of fruit agribusiness in the country, this movement is also very important in efforts to increase the community's immune system, especially in an effort to prevent exposure to Covid-19.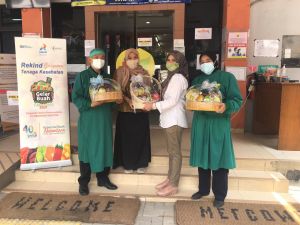 "We are also proud to be actively participating in activities that are directly supported by PT Pupuk Indonesia (Persero) as the holding, especially in an effort to appreciate the performance of health workers in providing services to the community. In addition, we also support the government's efforts to encourage public awareness of consuming fruit as local products," said Edy Sutrisman, SVP Corporate Secretary & Legal Rekind.
Lenny Indra, Supervior of Personnel & Training, Bhakti Yudha General Hospital, Depok, West Java, positively appreciated the steps taken by Rekind. She admitted that the distribution of fruits, which are original Indonesian products for the health workers in this hospital, was able to give a spirit of its own. "We do not see how much assistance is given. For us, the form of sympathy and empathy given by Rekind provides its own support for us as the leading implementers of health services. Thank you again for the support provided by Rekind," added Lenny.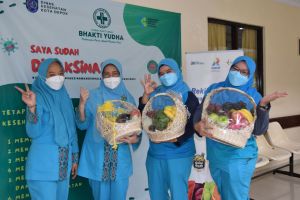 Ersida Saragih, Head of Nursing at Bunda Margonda Hospital, Depok, said the same thing. Representing the medical staff of the hospital, he expressed his gratitude for the great attention given by Rekind, which this year marks its 40th anniversary.
Hopefully this simple step can have big implications in growing the spirit of working health workers and can increase people's love for local products.