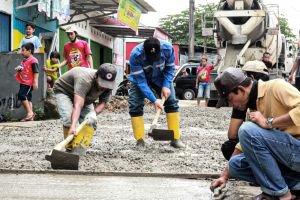 PT Rekayasa Industri (Rekind) continues to strive to build strong synergies with the community. One of the efforts to realize this step was illustrated when the only state-owned EPC company helped repair roads in the Cijujung Village area, Bogor, West Java, Saturday (27/2).
The background of this assistance is based on the fact that these two roads are vital for the community in supporting their daily activities. In addition, the location of the road is not far from the land assets owned by Rekind, which are directly adjacent to a number of RWs in Cijujung Village.
The activity titled the CSR program and driven by the Comdev Team and CSR -TJSL Rekind focused on road repairs at two points, namely on Jalan Jembatan Hitam and Jalan Kapling Desa Cijujung Sukaraja Bogor. The assistance provided was in the form of Readymix Quality K-300 concrete as much as 75.00m3.
"This work activity is a form of strong synergy between Rekind, Cijujung Village officials and the community. Hopefully it will be able to provide great benefits, especially in supporting community activities," said Edy Sutrisman, SVP Corporate Secretary & Legal Rekind.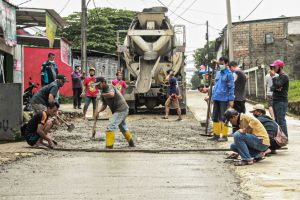 The activity which lasted for one full day was also appreciated positively by Wahyu Ardianto, the Head of Cijujung Village and a number of heads of community units in the village area. "I thank you for the attention given by Rekind. Hopefully the assistance provided will provide great benefits to the community. Because these two roads are the active locations that are most frequently traveled by the community," added Wahyu Ardianto.