Innovation, creativity and experience of PT Rekayasa Industri (Rekind) in the field of Engineering, Procurement, Construction, and Commissioning (EPCC) in an effort to improve national energy security are again sharpened.
Rekind who is part of the RRE consortium (PT Rekayasa Industri, PT Rekayasa Engineering and PT Enviromate Technology International) has started the RDMP RU VI – Balongan Phase-1 Construction Project: CDU Light Distillate Section Upgrading Project.
The start of the implementation of the project owned by PT Pertamina (Persero) was marked by a Groundbreaking Ceremony at the Pertamina RU Balongan VI Project site, Indramayu, West Java, Monday (22/2). Witnessed by the President Director of PT Kilang Pertamina International (KPI) Infrastructure Project, Suwahyanto, KPI Project Coordinator Aris Suparto, General Manager RU VI Hendri Agustian along with the Management Team and Executive Vice President (EVP) Commercial Rekind Bambang Sadewo.
"Rekind's involvement in this project is a great honor to us. The innovations and experiences that we have continued to optimize for 40 years have again gained great trust, especially in national strategic projects. With this belief, Rekind will continue to strive to provide its best as a form of commitment and support to the government in an effort to improve national energy security, "said Rekind President Director Alex Dharma Balen.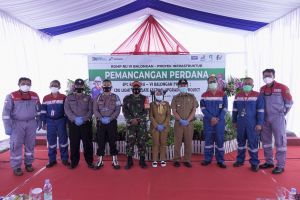 In this project, RRE's task put more emphasis on efforts to increase the capacity of the Light Distillate Section from 125 MBSD to 150 MBSD. In addition, the focus is on increasing the CDU's flexibility to process heavy mix crude oil or light crude oil (Lighter Crude Oil). Through this revamping or increasing oil production capacity and flexibility, the RU VI Phase-1 refinery will increase national energy security.
"This project is very high and strategic, making Rekind who is part of the RRE consortium to continue to strive to maintain and improve its productive collaboration, so that the targets set can be achieved properly," added Alex Dharma Balen.
Rekind's performance and commitment in improving quality and productivity through project work continues to be maximized properly. Not a few works that were born were able to achieve the determined targets well. With this commitment, it is not surprising that many stakeholders appreciate Rekind's performance.
So far, Rekind also has a good track record in working on a number of projects owned by PT Pertamina (Persero), such as the Jambaran Tiung Biru (JTB) Project in Bojonegoro, East Java. The project managed by PT Pertamina EP Cepu is a national strategic project that has a gas sales production capacity of 192 MMSCFD.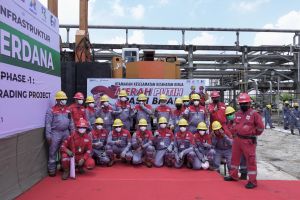 In December 2018, PT Pertamina (Persero) also trusted Rekind to work on the Refinery Development Master Plan (RDMP) refinery project in Balikpapan, East Kalimantan, as an effort to realize energy security in the country.
Pertamina Rekind is also trusted as the consortium leader for implementing the construction of Engineering, Procurement, Construction, Installation and Commissioning (EPCIC) Subsea Pipeline (SPL) and Single Point Mooring (SPM) and Flushing System Facilities located in Balongan, Indramayu, West Java.
Rekind is also involved in the Balongan Blue Sky Project (Blue Sky Project) which aims to build an oil processing plant that produces environmentally friendly fuels.
In addition, together with PT Pertamina Geothermal Energy (PGE), Rekind is also working on the Lahendong 5 & 6 Geothermal Power Plant (PLTP) project in Tomohon, even successfully completing several PLTP facilities with the predicate ahead schedule such as PLTP Kamojang 5 faster than the target that has been determined before.