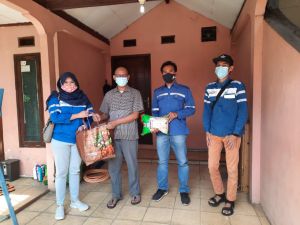 Heavy rains that flushed Jakarta and its surroundings some time ago caused flooding in a number of areas. No exception, this annual disaster has also visited the residences of a number of PT Rekayasa Industri (Rekind) employees, who mostly live in the capital and Bekasi areas.
As an expression of empathy and concern for a number of employees affected by the flood, the Comdev & CSR -TJSL and HSE Rekind Team raised assistance by distributing packages of basic necessities and medicines for employees in need.
The assistance, which was given from 22 – 23 February, was focused on 11 points in the Jakarta and Bekasi areas. "Representing the company, what we provide is still far from what friends and family feel. However, the symbol of this activity is a form of empathy, togetherness and company concern for friends and families whose homes are exposed to flooding," he said. Herman Susatyo VP Comdev & CSR TJSL Rekind.
The care and empathy given received positive appreciation from all employees who were victims. In the midst of this dire situation, the company still pays attention to its employees who are affected by the disaster. "My family and I would like to express our deepest gratitude to the company (Rekind). Hopefully in the future Rekind will continue to be a company that is proud of the nation for the works it has created," said Nida Fauziah, Piping Engineering Division of Rekind proudly.