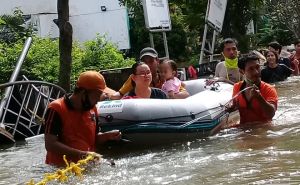 A total of 5 rubber boats assisted by PT Rekayasa (Rekind), Saturday (20/2) took part in the evacuation of residents affected by flooding in the Kalibata area, Pancoran, South Jakarta.
The boat was an aid from Rekind to Kalibata as an effort to anticipate victims of the floods that inundated a number of areas. The rubber boat that was sent by the sub-district and manned by the Public Facilities and Infrastructure Handling Team (PPSU), evacuated a number of residents in several RT and RW. A number of residents who were evacuated came from 8 RT, namely 06, 07.08.09, 10,12,13 and 14 in the RW 05 area. This aid boat also evacuated residents in the Pejaten Complex, which is located in RW 09 on Jalan Raya Buncit , South Jakarta.
"This is our obligation to help the people affected by the flood. Moreover, most of the victims are located very close to the Rekind Head Office, it is fitting that we provide assistance," said Edy Sutrisman, SVP Corporate Secretary & Legal Rekind.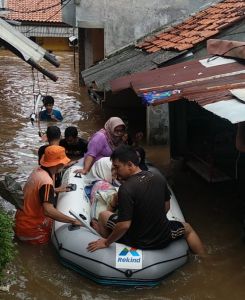 Apart from that, he continued, this step was also a reflection of the strong synergy and mutual support between Rekind and the community and local government officials. "Hopefully this synergy will continue to be well established and slightly lighten the burden on the people who are victims of the floods. And we are always given the strength to survive and rise from this situation," added Edy Sutrisman.
Most of the victims affected by the flood were evacuated at the Kalibata Urban Village Office and several places were used as locations to accommodate residents whose homes were flooded. "The aid boats provided by Rekind have had a very large positive impact in supporting our performance, especially in evacuating residents who have become flood victims. Thank you again, Rekind, for the assistance provided," said Head of Sub-District Kalibata, Maman Sumarman.