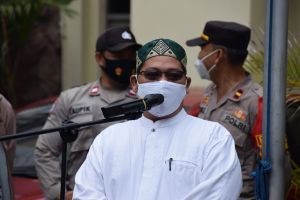 In collaboration with the Pancoran Sector Police (Polsek), Kalibata Village and 10 Rukun Warga (RW) administrators in the area, PT Rekayasa Industri (Rekind) helped bring about the birth of Kampung Tangguh Jaya.
Kampung Tangguh Jaya is a Covid 19 countermeasure program initiated by Polda Metro Jaya, Kodam Jaya and Pemprov DKI Jakarta. The steps of this activity are also in line with President Joko Widodo's efforts to intensify the Micro-Scale Social Restriction (PSBM) program by cooperating with communities starting from the RT, RW and wider community levels.
Through its Corporate Social Responsibility (CSR) Activities, Rekind has participated through a number of support assistance for Tangguh Jaya Village for 10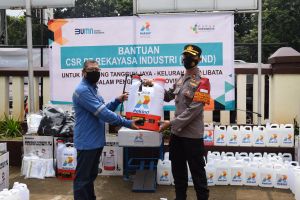 RWs in Kalibata Village, Pancoran, South Jakarta. The assistance was in the form of 16 disinfectant sprays and 160 liters of liquid. Then 8 units of portable handwashers and 80 liters of liquid soap, 80 pieces of PPE, 1600 masks and 80 vitamin C strips.
The delivery of aid was centered at the Pancoran Police Headquarters, Jalan Warung Buncit Raya No.124, Pancoran, South Jakarta. Directly led by the Head of Pancoran Police, Kompol Rohman Yonky Dilatha, Sik, Msi. It was witnessed by Rekind PKBL CSR Coordinator Dodi Hamda Fisthori, Head of Pancoran Village, Maman Sumarman and a number of RW management in Kalibata Village.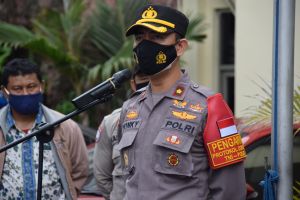 "We are very grateful for the support given by Rekind for the existence of Kampung Tangguh Jaya. Later on, we will relay these items to the community as well as to remind people that the assistance provided is well maintained and maintained. Once again, we really appreciate the assistance that aims to create a strong synergy between institutions and the community to break the chain of the spread of Covid 19, especially in the Kalibata Village area, "explained Yonky.
The Kampung Tangguh Jaya program is expected to be able to increase public awareness of health, especially as an effort to control and stop the spread of Covid 19. The community is invited to actively participate, empathize and work together in building a number of facilities such as a one-door security system through disinfectant spraying, hand washing facilities and a post. health.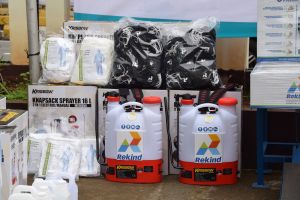 According to the Head of Kalibata Urban Village, Maman Sumarman, the activities of Kampung Tangguh Jaya also focus on education and at the same time keep reminding about the importance of health protocols, especially in the yellow and green zones. As for the orange and red zones, we emphasize more on assistance for residents who are conducting independent isolation and tightening the entry and exit routes for residents in the zone.
"Alhamdulillah, with the assistance provided by Rekind, we are optimistic that what we have planned in the Tangguh Village program can run optimally according to our common expectations," added Maman Sumarman.