Monday February 1, 2021 PT Rekayasa Industri (Rekind) inaugurated 82 structural officers. However, this time the inauguration was still dominated by the best figures in their respective fields. There are 2 Executive Vice President (EVP) officers, 12 Senior Vice President (SVP) officers, 41 Vice President (VP) officers and 27 Manager officers.
The reading of the oath of office was led directly by the Managing Director of Rekind Alex Dharman Balen. Also witnessed directly by the entire Board of Directors, President Commissioner of Rekind Ngakan Timur Antara and attended by all new officials both offline and online. This oath-taking is done so that all new Rekind officials are always consistent in carrying out their duties and commitments mandated by the company. So that whatever targets to be achieved, the hope is that they can be well realized.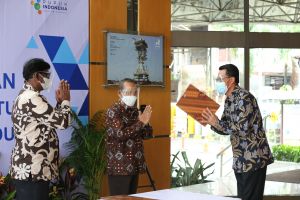 In his remarks, the President Commissioner of Rekind, Ngakan Timur Antara asked all new officials to work in synergy, optimally and efficiently, especially in building Rekind by promoting Morals as a corporate culture. "I believe that under Pak Alex's leadership, we will be able to pursue various targets set by the company together. In addition, Akhlak as a corporate culture is a strong asset to bring Rekind to be the best. I ask all ranks to roll up their sleeves to work hard together to build Rekind," he said at the Rekind Headquarters, East Kalibata, Jakarta, Monday (1/2).
The Managing Director of Rekind, Alex Dharma Balen emphasized, Currently there are many challenges that must be overcome. Surely to go through this challenge Rekind needs great strength, whose potential lies in Rekind's human resources. Especially in the midst of the Covid-19 Pandemic.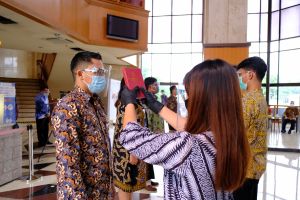 Rekind's strength lies in the potential of human resources that need to be maximized with the support of advanced management and systems. Our expertise and innovation are the assets to create high selling power. The expertise, innovation and skills possessed are provisions to create high selling power and make Rekind a world-class company.
Hopefully we can all be a synergy, solid, respectful team and never stop learning to improve our work skills. Congratulations on carrying out duties and responsibilities to the new ranks of officials. Let's fight together for a more adaptive, progressive and developing Rekind.