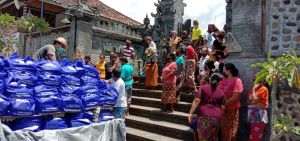 Covid-19 Pandemic hit all parts of the world and it does not show that it will end soon. In Indonesia, Covid-19 has been running for approximately 8 months and its impact is felt by all Indonesian people indiscriminately. Many activities become obstructed, both social and economic activities, which make it difficult to meet the needs of daily life.
This matter also felt by the people of the Island of the Gods, which have been famous for their world tourism destinations. The lack of tourism activities certainly affects the economy of the Balinese People, including small villages on the outskirts of Bali, one of which is Tumbu Village. This village is a remote village located in Karangasem District, the eastern tip of Bali Province. This  matter is what encourages Rekind to reach out to Tumbu Village and provide assistance to the village community.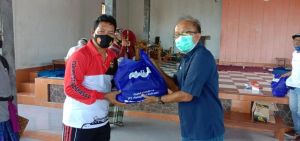 Rekind team departed from Head Office in Jakarta to Bali with supplies of nine basic necessities for a number of village communities, as well as portable handwashers. The supplies was received directly by the Chairperson and Secretary of the Tumbu Village Covid-19 Task Force, I Nyoman Pasek and I Wayan Darsana. This supplies are expected to be able to help meet the daily needs of the community and also play a role in breaking Covid-19 chain by facilitating access to washing hands.
"We are very grateful to Rekind for the assistance provided, it is very useful because many of the residents who work in tourism are now being affected. Hopefully in the future Covid-19 will end quickly and both can rise, especially in the economy, "said I Nyoman Pasek.
The delivery of this assistance is a manifestation of Rekind's commitment and concern for the welfare of the Indonesian people. Let's tighten our personal and family health protocols for Covid-19 chain to be cut off and all activities can return to normal.