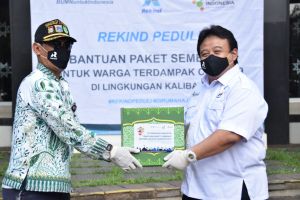 Rekind always upholds its commitment in establishing strong synergies with the community. The high commitment was illustrated when distributing basic food support to 1430 citizens in three RW in Kalibata, South Jakarta.
This step is contained in the CSR Corporate Social Responsibility (CSR) program, as a form of support for the Government of Indonesia, which is actively helping the citizens due to the outbreak of the Corona Virus Desease (Covid) 19.
"This support program is also a reflection of the strong synergy between Rekind and the citizens. Hopefully this support can ease the burden of the citizens in the midst of the outbreak of Covid-19," said Rekind's Managing Director, Yanuar Budinorman after the delivery of aid in Rekind Operational Office, Kalibata, Thursday (23rd) / 4).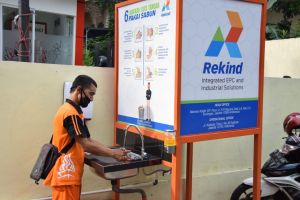 Because, continued Yanuar, without the support and cooperation of the citizens in a strong office environment, it would be impossible to create a safe and conducive atmosphere. This conducive situation is very closely related to the sustainability of Rekind's business.
Maman Sumarman, Kalibata Village Chief appreciated the support provided by Rekind to its residents. This of course can ease the burden on the Kalibata citizens in the midst of a difficult situation like now.
"We are very grateful for the support provided by Rekind. To be honest, it is very helpful, because many of our residents have been directly affected by the Corona Virus. Many of our residents have begun to be laid off from their places of work. This support is very valuable, thank you Rekind," said Ahmad Ramdhoni, administrator of RW 08, Kalibata, South Jakarta.
In addition to providing relief packages, Rekind also provided personal protective equipment (PPE) support to a number of regional public hospitals and health centers in Jakarta and West Java. There is also the fulfillment of portable hand wash and mask distribution for the citizens. And the great thing is, this program can run thanks to the strong synergy between Rekind and its fostered partners.
"Alhamdulillah, this program can run well, especially as an effort to help our fostered partners who are the majority of SMEs and their businesses are directly affected by this epidemic. Hopefully, this cooperation is getting more solid and real in an effort to move the nation's economy," said the HR Director Rekind Business Development, Triyani Utaminingsih.