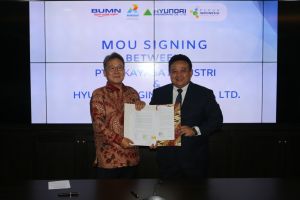 PT Rekayasa Industri always puts forward loyalty and commitment in every scope of its work, affecting Rekind's performance which has always become full attention and barometer of many circles, especially EPC business people both at local and foreign levels.
This was illustrated when Rekind re-established its 'cooperation with Hyundai Engineering Co., LTD (HEC), Tuesday (02/25). The cooperation was marked by the signing of the MoU EPC Development and Implementation for the Refinery Development Master Plan (RDMP), Refinery Unit (RU) Balongan Phase-1 Project, Tuban Grass Root Refinery (GRR) and RDMP RU IV Cilacap.
The MoU signing happened between Rekind's President Director, Yanuar Budinorman and President & COO of Hyundai Engineering Co., LTD, Chang Hag Kim which was carried out at Rekind Representative Office, Menara Kadin, Kuningan, South Jakarta.
According to Yanuar Budinorman, as a company in the field of engineering and construction, Rekind and HEC agreed to share capabilities, experiences and discussions, especially in the fields of construction, engineering and project management. Both also agreed to give each other relevant information and technical support, in connection with the development or preparation for the project at a later stage.
"The synergy we undertake is an illustration of Rekind's series of efforts to continue to realize its vision of becoming a world-class company in the field of integrated EPC. This step gives a signal that currently Rekind is one of the main figures of the EPC Industry in the global arena, "said Yanuar Budinorman.
In working on strategic projects, Rekind often cooperates with a number of world-class companies which deliver it to the global market. Therefore, Rekind hopes to have more contribution in increasing the Domestic Component Level (TKDN) and increasing the role of national companies in industrial development.