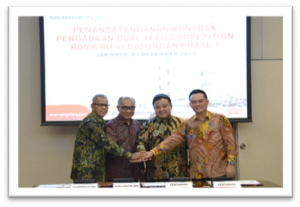 Rekind's innovation, creativity and experience in the EPCC field are increasingly taken into account by many such as when Rekind took part in the signing of the Dual FEED Competition (DFC) RDMP RU VI Balongan I Procurement Contract at Pertamina Headquarters, Tuesday (3/12).
The signing was carried out by the Director of Processing and Petrochemical Megaproject Ignatius Tallulembang along with representatives from the RRE Consortium and JSW Consortium representatives. Witnessed by Pertamina's President Director Nicke Widyawati and Pertamina's Chief Commissioner Basuki Tjahaja Purnama.
The RRE consortium consists of PT Rekayasa Industri, PT Rekayasa Engineering, and PT Enviromate Technology International. While the JSW Consortium consists of JGC Indonesia, PT Synergy Engineering and PT Wijaya Karya.
The Rekind Consortium along with other consortia, will 'fight' through the ability test in the competition to create Front End Engineering Design (FEED). The best design will be implemented in the Balongan Phase 1 RU VI RDMP project, for the work of the CDU Light Distillate Section Upgrading Project. Later it will increase the capacity of the Light Distillate Section from 125 MBSD to 150 MBSD. It also will increase the flexibility of CDU to process heavy mixed crude oil (Heavy Mix Crude) or light crude oil (Lighter Crude Oil).
"Obviously this is a pride for Rekind because it can be part of the history of a large milestone in the implementation of DFC. On the other hand, this is also a challenge. However, we believe, through innovation, creativity and experience carried out so far, Rekind is able to provide the best, "said Rekind's Managing Director, Yanuar Budinorman.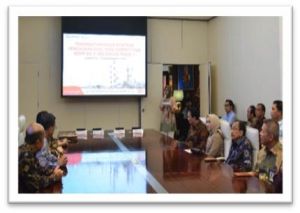 This scheme is the process of revamping the first time refineries are implemented in Indonesia. The goal, to be faster, only takes about 2.5 years and is believed to be able to provide good performance.
"The process is quite challenging and rigorous, we start from Balongan and will be applied in the next refinery. The second stage is Balikpapan, then Plaju, Dumai, and Cilacap. We will also go to another refinery. Once again, congratulations to the two consortia that have been selected, "said Pertamina President Director Nicke Widyawati.
For 38 years, Yanuar Budinorman continued, Rekind has always been actively involved in various national strategic projects. All assignments given are always realized in the frame of the best performance and on target. "This is our strong commitment, as one form of support to the government in an effort to improve the nation's energy security," he added.
Keep going forward!