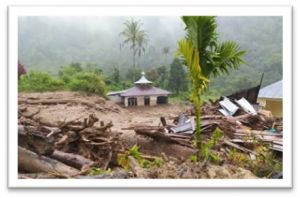 Saturday, December 7, 2019, PT Rekayasa Industri (Rekind) of the Muara Laboh PLTP Project resumed carrying out social support activities. This time Rekind distributed aid to victims of flash floods and landslides in the Koto Parik Gadang Diateh District (KPGD), West Sumatra.
The natural disaster in South Solok Regency hit four Districts namely Sangir, Pauah Duo, Pagu River and Koto Parik Gadang Diateh. While flash floods occurred in the Koto Parik Gadang Diateh District, precisely Nagari Pakan Rabaa Timur.
Flash floods and landslides in the area occurred on Wednesday (11/20) at 21:00 West Indonesia Time, Friday (11/22) at 20:00 West Indonesia Time and Sunday (11/24) at 22:00 West Indonesia Time due to high rainfall with quite a long duration. While the capacity of small rivers and unstable soils.
For this reason, Rekind channeled a variety of supports to the affected communities. Among other things such as school supplies, blankets, food and other daily needs. This activity was also supported by funds from the Ulul Albab Rekind Mosque Cash, Muara Laboh PLTP Project. Data obtained by the team from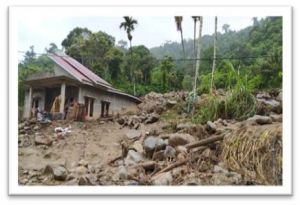 Volunteers, 1,952 houses were submerged, 26 houses were damaged, and 14 other buildings were damaged. The South Solok Regency Government has also set the status of disaster emergency response for 14 days from 22 November to 5 December 2019. Hopefully this activity can provide benefits for our brothers who are victims of this flood and landslide disaster.