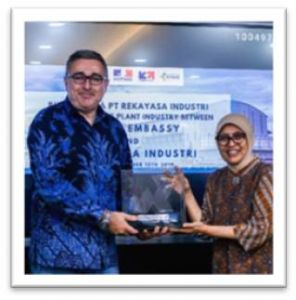 The Government of France through its large embassies in Indonesia embeds potential partner trust to Rekind because it is considered to have a remarkable knowledge, innovation and experience in the EPCC field, especially as a pioneer in realizing the development of integrated sugar factory in Indonesia.
The idea of the belief was when the Embassy of France held 8 delegation of French companies to host a meeting with Rekind as a resource at Menara Kadin, Kuningan, South Jakarta, Tuesday (15/10).
The meeting was initiated by the French Embassy for Indonesia through Business France Indonesia which was represented by Catherine Bonnet Rousseau, and supported by the Association of French sugar Factory companies, CODETEC, with Thierry Prudhomme as the chairman of the delegation.
"For us This is a great tribute and appreciation, as well as a manifestation of strong synergy between the Government of Indonesia and France, especially in the effort to realize and develop an integrated sugar factory in Indonesia," said Triyani Utaminingsih HR Director & Rekind Business Development on the occasion.
The presence of 8 French companies focused on the development of the sugar industry, is a real step for Rekind that has the vision of becoming a world-class EPCC company.
In the same opportunity both sides also do Focus Group Discussion (FGD) which focuses on each sector of the company, namely; Renewable energy, biomass, Engineering (manufacturers of tools supporting the sugar industry), Bio-Energy, and Agrobisnis.
In the future, Rekind will continue to explore international business opportunities, in accordance with Rekind's commitment to develop national industrial quality in the fields of minerals, chemistry, and energy sector.
"We chose Rekind as a potential partner because of the experience in building and developing the integrated Sugar factory in Indonesia" said Catherine Bonnet Rousseau optimistic.