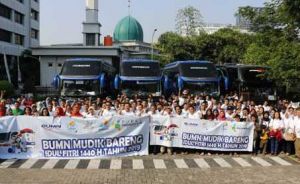 Wednesday (29/5), is a long-awaited and happy moment for some Rekindist and citizens in the area of Kalibata village, South Jakarta. It is also a long-awaited day to be able to redeem longing for parents, relatives and close friends in the Hari Raya Idul Fitri 1440 Hijiriah.
The depiction of happiness is reflected from the expression of most participants who participated in the activities of the SOE program of Mudik together Idul Fitri 1440-2019, which was held Rekind. The event that was opened by the President Director of Rekind, Yanuar Budinorman and witnessed all the ranks of directors, subsidiaries and management of PIKA Rekind, is indeed a routine activity held annually, as a form of corporate concern to employees and the surrounding community.
"This activity is one of the evidence of support and concern of Rekind management and also in order to support the program of Ministry of BUMN to realize the safe Homecoming, Guyub and Rukun," said Yanuar Budinorman.