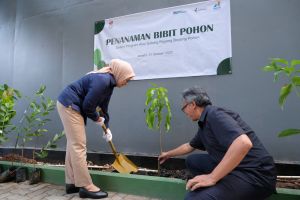 PT Rekayasa Industri (Rekind) is holding a Program for Distribution and Planting of 1000 Tree Seedlings as a form of support from the company as a subsidiary of PT Pupuk Indonesia (Persero).
This program is part of efforts to support the acceleration of achieving 17 (seventeen) Sustainable Development Goals by 2030. This step is also included in the 2023 BUMN TJSL activities, which require all BUMN personnel to play an active role in social activities, both comes from the company's TJSL program and social activities outside the company.
The action for distributing and planting 1000 tree seedlings was held by Rekind on Tuesday (31/10). Led directly by the President Director of Rekind, Triyani Utaminingsih. Witnessed by Yusairi, Director of Operations and Technology/Development accompanied by M. Darma Setiawan, EVP Operations; SVP Corporate Secretary & Legal, Edy Sutrisman; Utik Dwi Pratiwi, SVP Engineering; Dedy Rinaldi, SVP Finance, Accounting, Tax & Budget; Rivally Azhar, SVP Internal Audit; Nu'aim Badrul Kamal, SVP Corporate Strategy & Investment; as well as a number of high-ranking company management officials.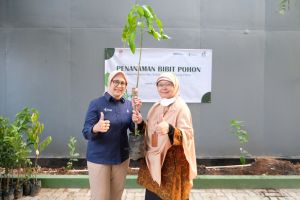 The uniqueness of this activity is that apart from the company's role, this tree planting action also focuses on the involvement of Rekindist activities in it. Each employee is given a tree seedling that can be planted directly, either at home or in a residential garden or elsewhere.
This activity is documented directly by employees and then entered into the PI Smart system (Pupuk Indonesia Group employee information and communication system application), which is recorded as a form of support for the company's Social and Environmental Responsibility (TJSL) activities and influences the Key Performance Indicator (KPI) both companies and employees.
"Rekindist's involvement in this activity will also be included in the KPI assessment, whose activity documentation is attached to PI Smart which we have been using together for some time," said Triyani Utaminingsih in her speech.
This activity has also been stipulated in the KPI TJSL Pupuk Indonesia target for 2023, that all employees of Pupuk Indonesia and its subsidiaries must be actively involved in social activities.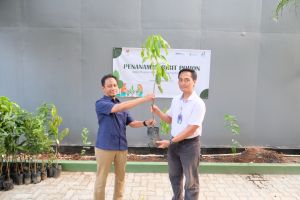 In the eyes of the woman who is familiarly called Yani, this activity is not only limited to supporting the company in protecting and preserving the environment. Behind that, this effort also has strategic steps, especially to bring Rekind closer or introduce it to the wider community, especially through the role of all Rekindists.
"For this reason, I fully hope that all of you will take part in this activity, not only as our contribution to society but also to increase enthusiasm among us to be able to carry out social activities directly and together," explained Yani.