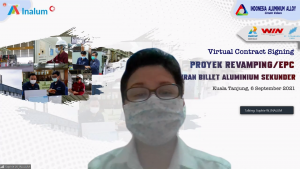 The consortium of PT Rekayasa Industri (Rekind) and KSO Asahan Citra Win are trusted to work on the Revamping Project (EPCC) of Secondary Aluminum Billet Smelting Kuala Tanjung, Asahan, North Sumatra, owned by PT Indonesia Aluminum Alloy (IAA).
The project work was marked by the signing of a Virtual Contract Signing collaboration, which was carried out between the President Director of Rekind Triyani Utaminingsih, representing the Consortium, Tan Willy Sianto as Chair of the KSO Asahan Citra Awin Management Committee, Yano Hadianto Member of the KSO Management Committee Asahan Citra Win and the President Director of PT IAA, Ricky Gunawan as the owner/operator of the project.
The signing of the cooperation which was held on Monday (6/9) was witnessed directly by Sophia Isabella Wattimena – Managing Director of PT INALUM (Persero), as a shareholder of PT IAA, Yusairi Director of Operations and Technology/Development of Rekind, Bondan Pristiwandana Director of Finance and Human Resources (HR) Rekind and a number of other invitees.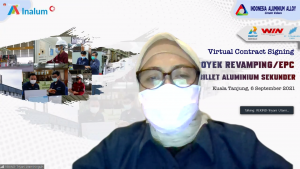 "This synergy step is a big challenge for Rekind, especially during the COVID-19 pandemic like now. Even so, Rekind will continue to strive to show even greater best performance, especially in the development of EPCC techniques, through the work on the Billet Aluminum Smelting Revamping Project, owned by IAA – a subsidiary of PT INALUM," said Rekind's President Director, Triyani Utaminingsih.
Through the ability, expertise and experience of Rekind under the consortium flag, it is hoped that it will be able to recondition and modify the assets owned by IAA so that they can be operated to produce secondary billet aluminum products optimally.
"Hopefully, through innovation, professionalism and commitment that we have always put forward for 40 years, we will be able to realize the construction and development of this essential aluminum smelting plant through Rekind's best work," added Triyani Utaminingsih.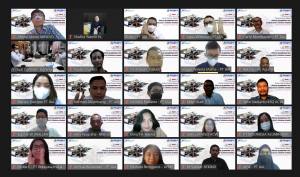 Intense coordination will be carried out by the Consortium and KSO, especially in the project implementation stages since this collaboration was signed. It starts through the engineering stage, which focuses on designing the equipment needed to support project work. In addition, the contractors working on the project through this consortium and KSO will also prioritize their capabilities and expertise for work in the fields of procurement, construction, pre-commissioning and commissioning.
"We hope that all the work that has been planned can start immediately and be completed on time, even if possible sooner than the planned time. So that the commercial operation date that has been announced can be achieved properly," said Sophia Isabella Wattimena – Managing Director of PT INALUM (Persero).
Hopefully this synergy will be able to give birth to a good work system by prioritizing the spirit of upholding, the principle of mutual respect and benefit. And no less important, still promoting an attitude of openness but still upholding professionalism, in order to provide benefits, both for the company and the nation and state.