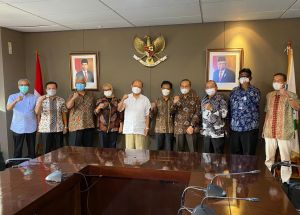 PT Rekayasa Industri (Rekind) again underwent a structural change in the board of directors. This time, Yusairi's name was trusted to occupy the position as Director of Operations and Technology/Development, based on the Rekind Shareholders' Decision. Through the decision signed on 15 June 2021, Yusairi's presence completes the formation of the Rekind Board of Directors, which is currently 'commanded' by Alex Dharma Balen as the President Director and Triyani Utamaningsih, Finance & HR Director.
In the decision, the Shareholders also confirmed the honorable dismissals of the Director of Operations Jakub Tarigan, the Director of Business Development Achmad Muchtasyar and the Commercial Director of Dundi Insan Perlambang, accompanied by their deepest gratitude for their services and contributions to Rekind. This decision also changes the nomenclature of the positions of the members of the board of directors, from previously Director of Operations to Director of Operations and Technology/Development
Yusairi's appointment to this position was the right move. His flying hours and experience in the field of operations for EPC projects are very qualified. The Mechanical Engineering alumnus of the Bandung Institute of Technology (ITB) '84 has also been known for being brilliant since he was in college. Thanks to his great sincerity and brilliant thinking, young Yusairi was able to achieve the title of the best graduate student in his class for the Department of Engineering. In fact, this meticulous hard worker is also the recipient of a Master of Science (Msc) Degree in Gas Engineering & Management at the University of Salford, Manchester, UK – in 2005.
In the Rekind environment, the name Yusairi is not a new figure. Since 2019, he has been trusted as the Rekind Project Manager in the Joint Operation (JO) of the Balikpapan Refinery Development Master Plant (RDMP) Project, owned by Pertamina (Persero). His task is not light, because the goal of this national strategic project is to increase the refining capacity of Refinery Unit V (Balikpapan) from 260,000 BPD to 360,000 BPD. Its scope consists of revamping existing facilities and building new facilities including the integration of overall production and other supporting facilities.
Yusairi and his team in the field can carry the weight of the assignment. This can be realized thanks to his well-honed experience at Rekind regarding the company's operating tasks. Previously, in 2018-2019 he was also trusted to hold the position of Executive Vice President (EVP) Operations, accompanying Jakub Tarigan as Director of Operations. Through his expertise, experience and expertise, all his responsibilities can be completed properly with brilliant results.
Hopefully his presence on the Board of Directors will be able to bring Rekind even more brilliantly and remain the best company in the EPC field.