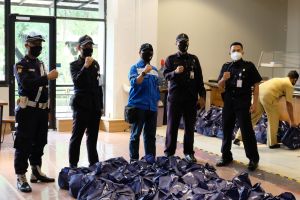 Approaching Eid al-Fitr 1442 H, Rekind distributed 1330 basic food packages for people in Kalibata, South Jakarta. This step was taken as a form of gratitude, as well as to slightly ease the burden on the people affected by the outbreak of Covid-19. Not a few people have lost their livelihoods and businesses due to this pandemic.
"That's why this activity was held. The goal, apart from being an expression of gratitude, is also to slightly lighten the economic burden faced by the community during a pandemic like today, "said Herman Susatyo, VP Community Development & TJSL Rekind, after distributing the sebako packages at the yard of Kalibata Village Office, South Jakarta, Thursday. (6/5).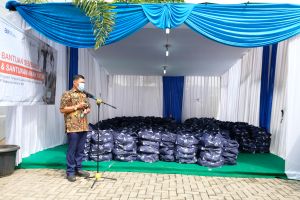 This activity is also part of an effort to strengthen synergy between Rekind and the community in Kalibata. "The two parties must create a good climate of togetherness, because in fact the existence of Rekind in the midst of the community is also a valuable asset in an effort to develop the country's economy. For this reason, it is fitting that the existence of Rekind should always be supported and guarded together, "added Herman Susatyo.
A total of 1330 basic food packages were given to people who really needed them, especially those in RW 01, 08 and 010. This assistance was also distributed to 80 officers of the Kalibata Sub-district Public Pre-Service Handling (PPSU) who had a significant share in carrying out community tasks.
"We would like to express our deepest gratitude to PT Rekyasa Industri for its support to the residents around Kalibata. Hopefully this noble step can continue, especially as an effort to increase synergy or togetherness between Rekind and the community, "added Kalibata Urban Village ead Maman Sumarman.