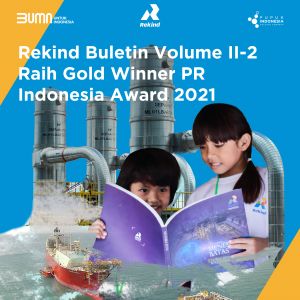 PT Rekayasa Industri (Rekind) recently won an award at the 2021 Public Relations Indonesia Awards (PRIA) in the E-Magazine sub-category held by the PR Indonesia Group, which is a PR organization in Indonesia. After going through a selection process for more than three months, finally it produced satisfying results for Rekind. Rekind was able to beat hundreds of companies and other state agencies competing in the PRIA 2021 event. Of course, this is a matter of pride for Rekind in the Indonesian journalistic product arena.
Public Relations Indonesia Awards (PRIA) itself is an event for people who are involved in the world of Public Relations, especially in journalistic production, both print and digital media such as E-Magazine. Apart from holding awards, PR Indonesia also has a magazine that has several well-known events in the world of Corporate Communication throughout Indonesia.
This is the first time that Rekind has participated in the PR Indonesia Awards through the Rekind Bulletin Volume 2.0. Rekind's main goal in advancing to the event was none other than to expand the network and engage with people outside of Rekind. Not wanting to rush, Rekind deliberately just progressed this year because it still wanted to deepen and improve its journalistic products from edition to edition. The bulletin, which has been produced since August 2019, has continued to change into an internal communication product for the Rekind company, which is gradually increasing in quality.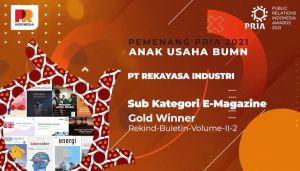 Unlike other companies, Rekind empowers employees in the Corporate Communication division to produce the Rekind Bulletin. Apart from being a place to hone writing skills for employees and pouring bright ideas, the Rekind Bulletin is also a place to accommodate various information about the company. The editorial team of the Rekind Bulletin realized that their journalistic products could not only be used as internal media for the company to convey information about what was happening in the company and what the company was doing, but also had to know whether the Rekind Bulletin was feasible and could be relied upon as a company's internal communication media. From that basis, the editorial team decided to register the Rekind Bulletin for the PRIA 2021 event.
In the future, it is hoped that Rekind will continue to excel not only through quality projects completed, but also through the development of Rekind's human resources in various fields so that both the company and employees can grow together.